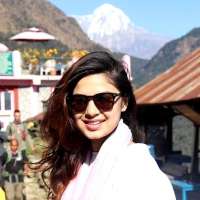 Anita Karki
Head of Merchant Development
Miss Karki, Anita is a passionate travel lover seeking extra thrill and adventure in every travel and trip. The passion of traveling, tours, treks, adventures, and enthusiastic explorer behavior to understand and acknowledge the new places, things and communities, strangers and their culture and traditions and wild-fantasy of visiting and exploring mysterious, as well as a hidden treasure of nature, drive her to join the tour and travel agency where she has more freedom and motivation to accomplish her dream.
She Joined Relax Getaways from the very beginning/ or through the starting of the operation of the Relax Getaways. She is also a skillful person with better knowledge of professional communication, intelligent marketing, and relationship development. Her way of developing public relations and influencing communication has supported Relax getaways to achieve the goals and objectives it has planned in a very short time.
As a Head of Merchant Development, the profound propose and ideas of Miss Anita Karki have proficiently supported the growth and development of the market of Relax getaways.
The Knowledge and skill of Miss Anita, her passion for traveling and tour, and her equally valuable academic/educational achievement make her a better candidate for any task and best to level management member.